» Market stalls --> Compact-Stand i1.5

CompaCt-OFFER i 1.5
- 1,5 m, small parts, big shelter!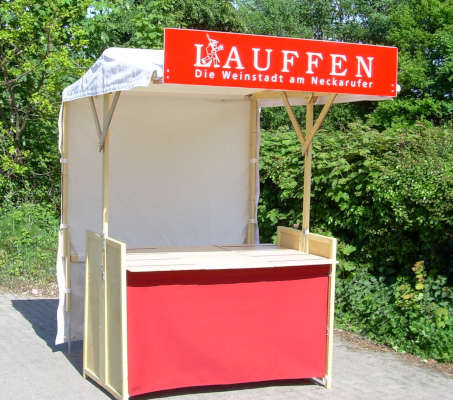 Wooden Compact Stand i1.5
- 1,5 m, inclusive desk cover!
This handy klipklap Marktstand is easy transported due to the max. part length of 150 cm. It fits to any car or bicycle trailer.
The smart structure made up of folding desk sides and plug-in roof parts is easy erected by one single person within 5 minutes. And the tarpaulin is self-bracing like an umbrella!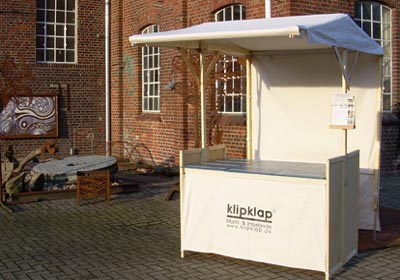 CoMPACT-OFFER i1.5 1,5 m
self-bracing canvas for roof and back
2 adjustable Storm props
table from plywood
cotton desk cover
bag for the tarpaulin
further accessories:
side cover
shelf underneath desk
designed display board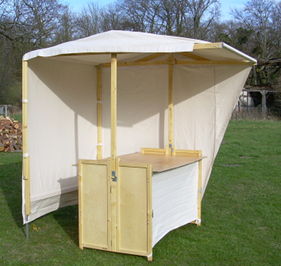 i1.5 Compact stall
- side cover fits left or right, the tarpaulin in the back can be rolled up.
| | | | | |
| --- | --- | --- | --- | --- |
| Size | (cm): | | Transport rate | (cm): |
| Stall width | 150 | | wooden frame | 150 x20 x15 |
| free headroom | 200 | | desk & boards | 100 x50 x10 |
| covered depth | 220 | | tarpaulin | 150 x20 x15 |
| Table depth | 100 | | weight ca. | 35 kg |
| Table height | 85 | | | |
The stall is designed for eco-friendly trading, for sustainable public relation or just for small goods and a small car. The desk can be used separately without the roof as a counter etc.
Call attention!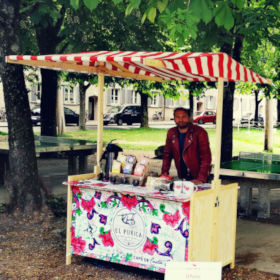 All klipklap Market stalls can be delivered with coloured tarpaulins (artificial fabric) and printed canvases for the desk.
Special attention is guaranteed by a plug-in display-board. It is seen from far high up over the heads of all customers. We have a fixed price for that and help with the design.
Self bracing canvas!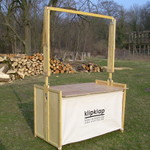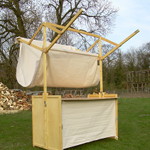 Fold out roof supports and fix them using the locking pins so their arms look like a V (lower position).
Now take the tarpaulin and rest the roll onto the back side of the roof supports. Roll out some canvas and plug in the integrated support into hinges at back ends of the roof supporting arms.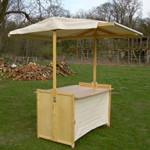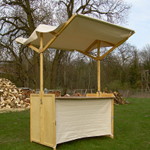 Roll out the full roof lifting or gently throwing over the top to the front. Plug in the integrated support into the ends at the front. Tighten the canvas by pushing the roof supports upwards so the arms stand out horizontally locked with the locking pins.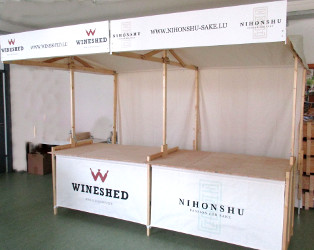 This practical wooden stall system has been proved in professional markets for many years, enabling stress-free and weatherproof work in pedestrian areas, at outside presentations or conferences and many different promotions. For perfect weather protection there are side covers with height adjustable storm-props.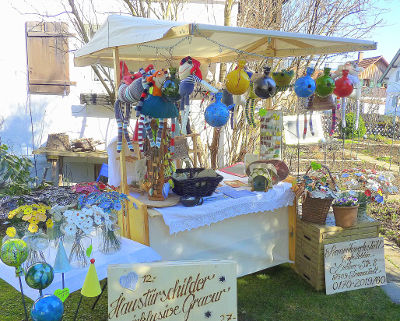 Due to the plug-in system with stainless metal hinges it is a child´s play to assemble the
klipklap Market stalls
! No tools needed - and they last lifelong!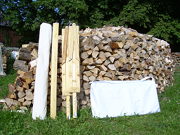 With an additional transport bag for the frame parts the i1.5 Market stall can be send by parcel service even.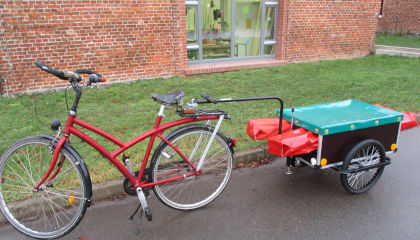 And the i1.5 is small enough to be transported eco-friendly by bicycle in a bicycle trailer.