» Market stalls --> Construction design

WOODEN MARKET STALLS
Eco-friendly market stalls for professionals -
with environmental standard!
Market stalls K2 in various colours!
For the past forty years the eco-friendly
klipklap Market stalls have stood the test of market life with great success and can be seen in many markets.
For any purpose, be it promotion or catering, for selling organic or artistic goods, the environmentally aware image of klipklap Market stalls is authentic and impressive to consumers.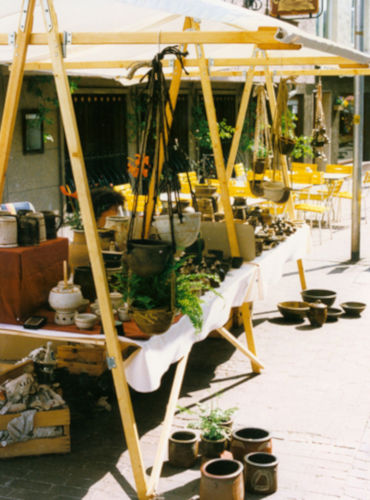 Artisans and craftsmen often opt for these stable and convenient market stalls. They are made from oil varnished wood and a bright naturally coloured cotton tarpaulin, made of waterproof fabric. Special canvas roofs from blended fabric and various colours accentuate your desired image.
easy to set up:
klipklap

market stalls

A child´s play to assemble it:
by a single person without any tools in just a few minutes (K2 2m 5-10 minutes), due to the plug in system with stainless metal hinges!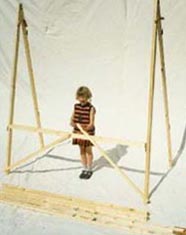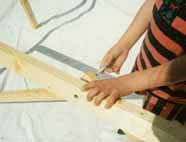 Diagonal supports prop the market stall at the side so it doesn't wobble. The thread for the butterfly screw is in the wooden supporting rack.

The counter is assembled from four boards made of strong plywood in every 2m section and are secured against movement.



Height adjustable storm-props in the back extend the bases of the market stall, protecting it from tilting or collapsing from the power of a storm (used in side covers in front as well).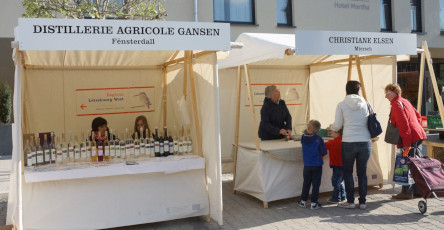 Coloured canvas!
klipklap

Market stalls

can be supplied with multi colored tarpaulins: our most common cotton canvas in natural shades and colored awning cloth (artificial fabric) in single colour or striped -

waterproof and tight!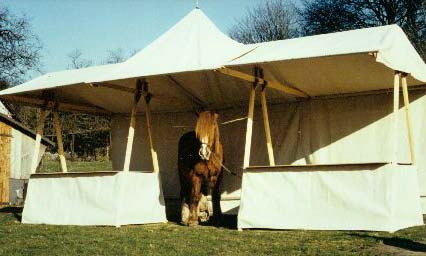 klipklap Market stalls are flexible and endlessly extendable. The innovative construction makes it possible to attach many more sections depending on whatever the occasion demands! - and easy to set up!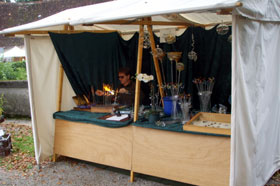 We deliver the klipklap Market stall with branding and lots of useful accessories.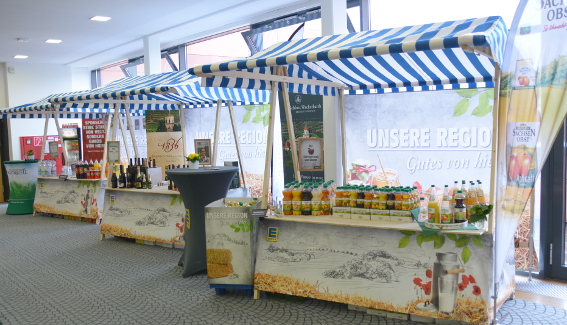 Wake up!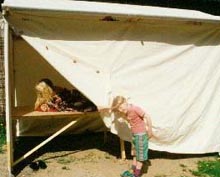 Side covers and front cover to close the stall.
tightly braced canvas: klipklap market stalls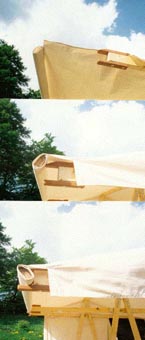 No rain water collects on top due to waterproof impregnated and braced canvas with turn-in wooden pins:

- turn-in
- brace
- pin!

All tarpaulins are tightened in between crossbars inside the tarpaulin.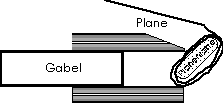 The canvases of further sections of the market stall can be pinned on overlapping, endlessly …