This practical wooden stall system has been proved in professional markets for many years, enabling stress-free and weatherproof work in pedestrian areas, at outside presentations or conferences and many different promotions.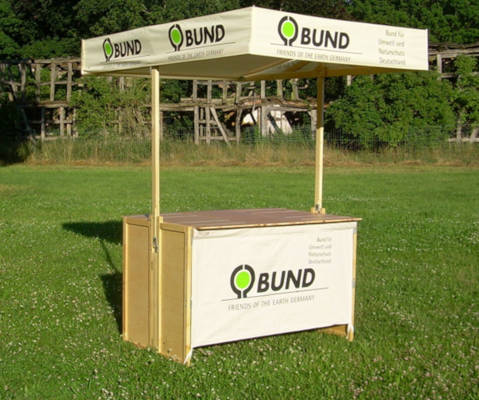 i1.5D Info stall 1,5 m, self-bracing canvas
klipklap Info stalls : three Systems:
i1.5 ...

- the smart Info stall, easy handling, self-bracing canvas, desk usable separately, maximum 1.50 m parts;

K2, K4 ...

- the regular stall system, endlessly extendable, a second section works as a walk-in area, maximum 2,40 m parts;
i1.0 mini ...

- the indoor stall, effortless transportation, maximum 1 m parts;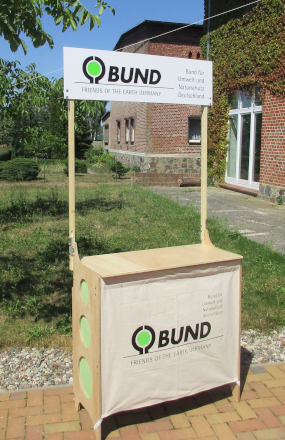 i1.0 mini, 1 m Indoor-Info stand
We use eco-friendly materials only. The cotton canvas is waterproof and tightly braced with turn-in wooden pins. Simplicity in its parts enable effortless transportation and handling of the klipklap Info stall.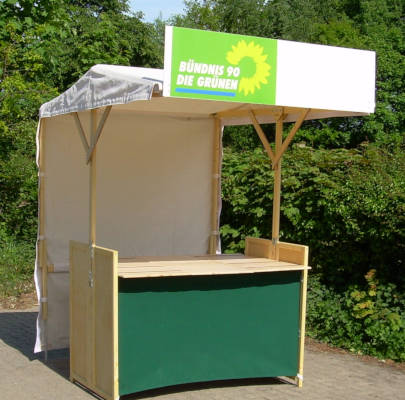 klipklap Info stand i1.5 "Green party"
For any purpose, be it promotion or catering, for selling organic or artistic goods, the environmentally aware image of a klipklap Stall is authentic and impressive to consumers.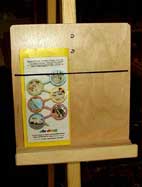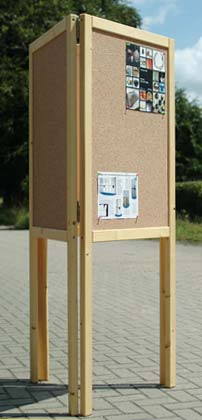 Leaflet holder A4 & Promo stand 3x A1 cork pin-wall
For brochure & price list please:
send postal address!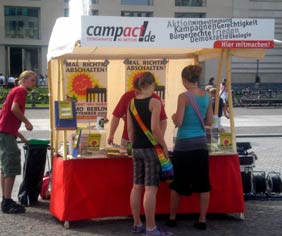 klipklap Info stalls are easily assembled by a single person without any tools in just a few minutes.

Due to the plug-in system with stainless metal hinges it is a child´s play to assemble it! All tarpaulins are tightened in between crossbars inside the tarpaulin. The i1.5 with its self-bracing canvas is easy handled, maximum 1.5 m parts.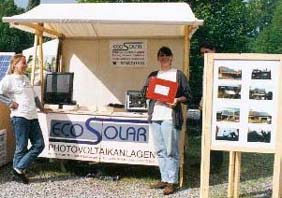 klipklap Info stall K2, desk cover & display 3A1
For perfect weather protection there are side covers with height adjustable storm-props . The tarpaulin in the back can be rolled up.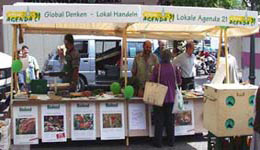 Info stand K4, can be used as K2 as well

Display boards!
We deliver the professionally equipped

klipklap

Info stalls with designed Display boards at the roof. High up here they are an eye-catcher. Display boards can be designed with logos, photos and text. Send the raw data and we will give you a layout and price,
(scalable vector graphic or 1:1 PDF).
There is a fixed rate for
two-colored text / logo and background color!
We also style your desk cover.
Accessories!
Desk painted & elastic cords for holding documents, side rack with 3 adjustable shelves, brochure/leaflet holder A4, additional shelf underneath the desk for spare stuff,
transport bag for the frame parts, halogen spots on plug-in holders,
bicycle trailer, cork covered pin-board 3-sided A1, extendable…
- make your

klipklap

Info stall perfect!